Celebrating my 5 year anniversary with my wife in St. Louis this weekend got off to a great start. We checked out Gamlin Whiskey House for dinner and drinks, and it was pretty phenomenal!! E'Ville Eats may be centered in Evansville, but having many metropolitan areas nearby that offer amazing options like these is one of the reasons I love where we live!! Check out some pics of our meal and my reviews of our dinner!
We chose to dine at the bar, which is probably my favorite thing to do in a restaurant I've never been to. Striking up a conversation with the bartender is always the way to get insight into the other local spots that are a the less known, up and coming places to check out. They have a wide variety of whiskey selections, which is always an indicator that I'll be a fan.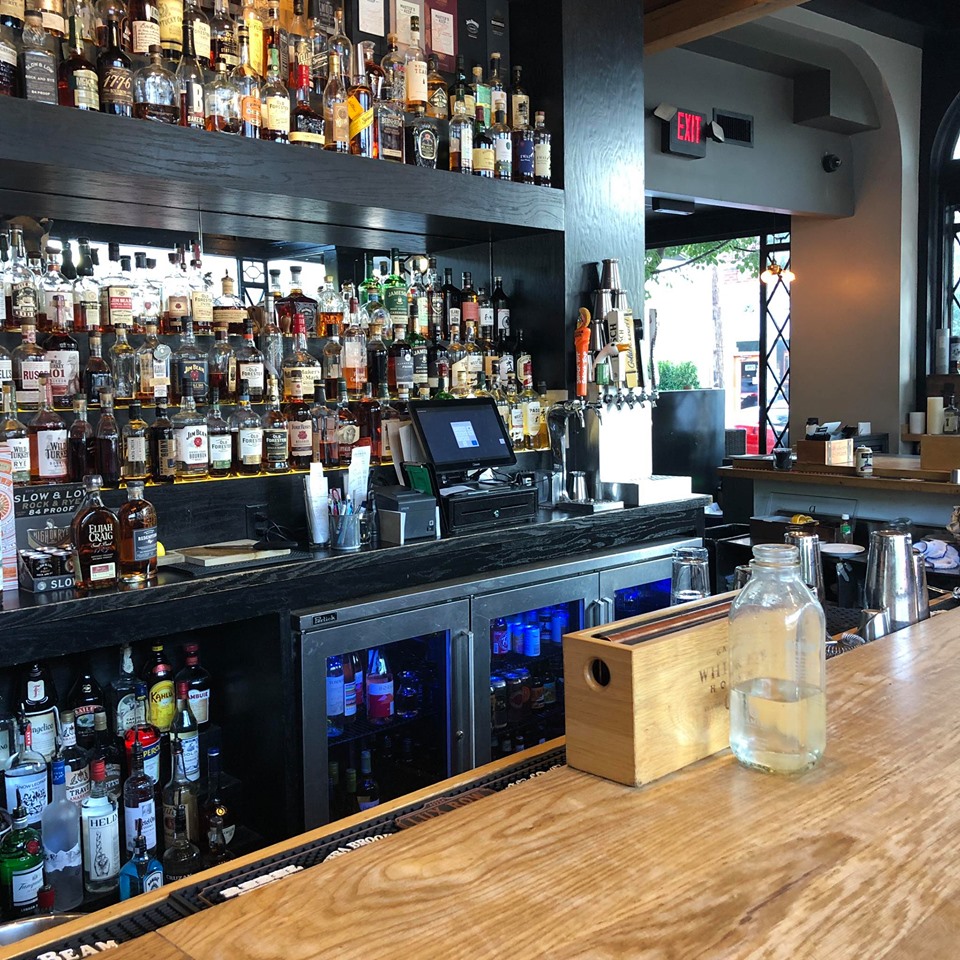 The menu was simple, which never bothers me. A few offerings, done extremely well, is a sign that they know what they're doing and they have probably honed their craft to a level of mastery.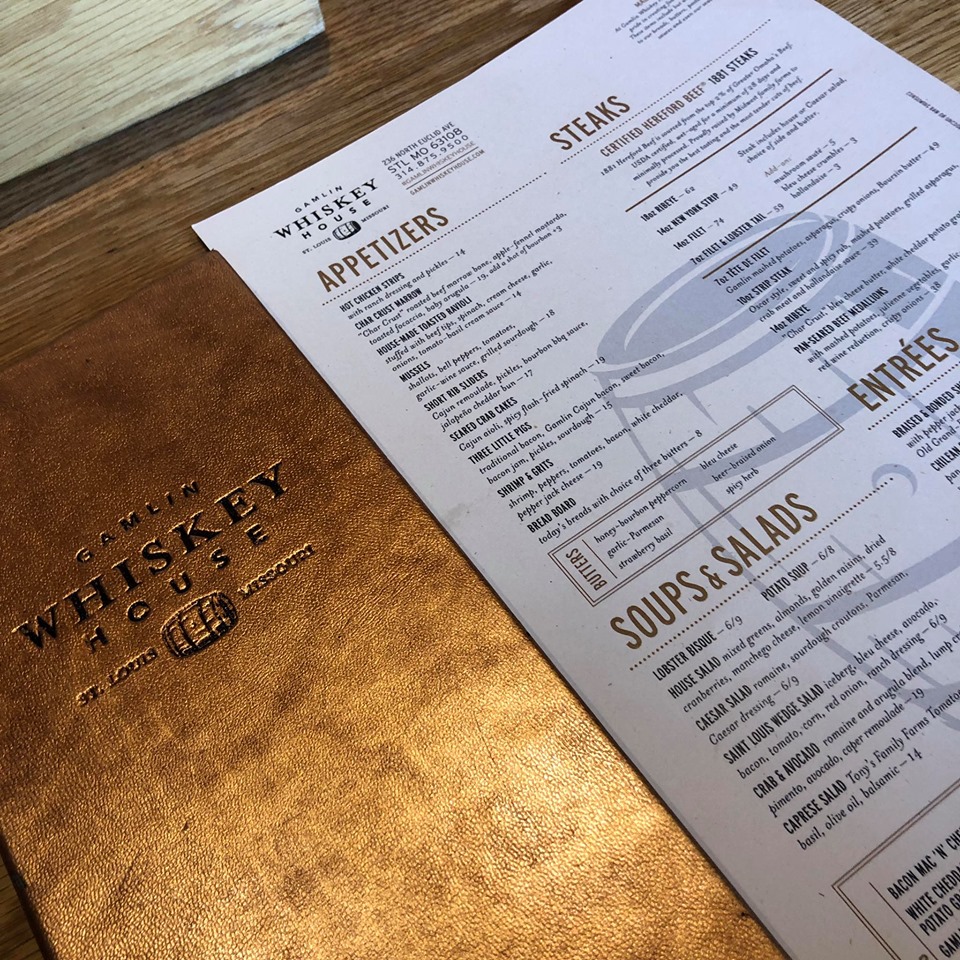 To kick off, I started with the house special Smoked Manhattan. They offered this drink, prepared table side. This starts as a traditional Manhattan, mixed with their own, hand-picked barrel of Maker's Mark. They mixed the drink and poured it into this bottle, then used a smoking gun with cherry wood to add smoke in the bottle before sealing with a cork and smoking the glass. Laying the bottle on its side increases the surface area of the drink in contact with the smoke, allowing the drink to absorb more flavor.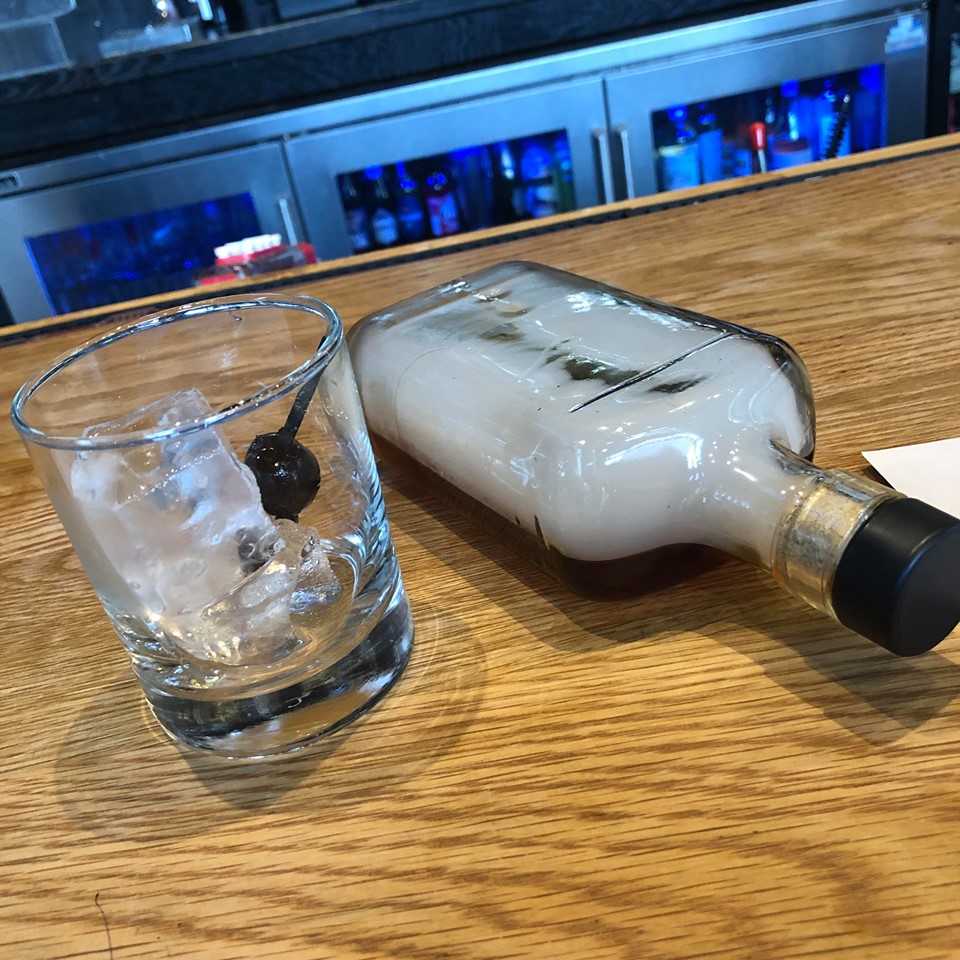 The longer you let it sit, the smokier your cocktail, which means no 2 are ever exactly the same. I let mine sit for about 5 minutes before pouring over the ice and cherry that were smoked before. After pouring all the liquid out of the bottle, you can see just how much smoke was left! While not the smokiest drink I've ever had, this was wonderful! Smooth as glass, with a long finish, that was thoroughly enjoyable. I would highly recommend for any whiskey drinkers out there.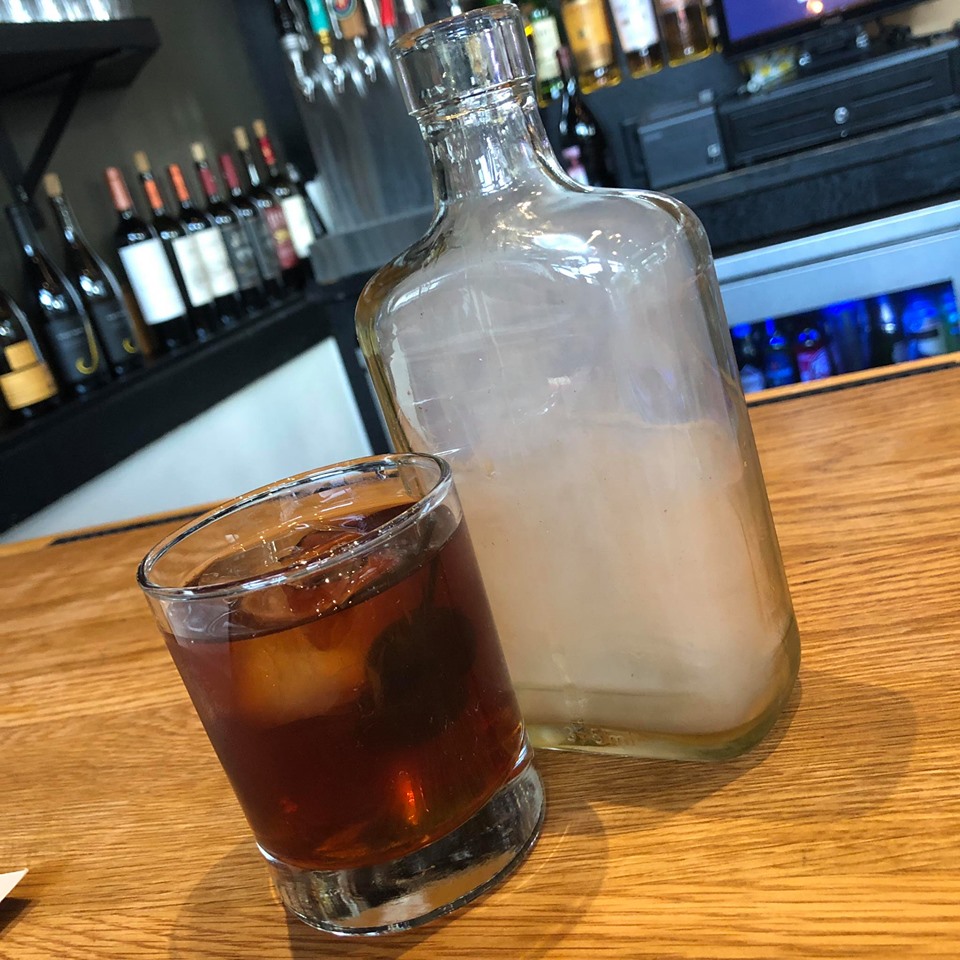 I ordered the beef medallions with sautéed spinach over mashed potatoes with crispy onions and garlic herb butter. There was also a reduction of some sort on the dish, that offered the perfect level of acidity to balance this dish. I ordered my beef medium-rare, and it was tender and delicious. The in-house mashed potatoes were a bit dense with bits of potato still mixed in, which are my favorite way to have them prepared. This dish was killer!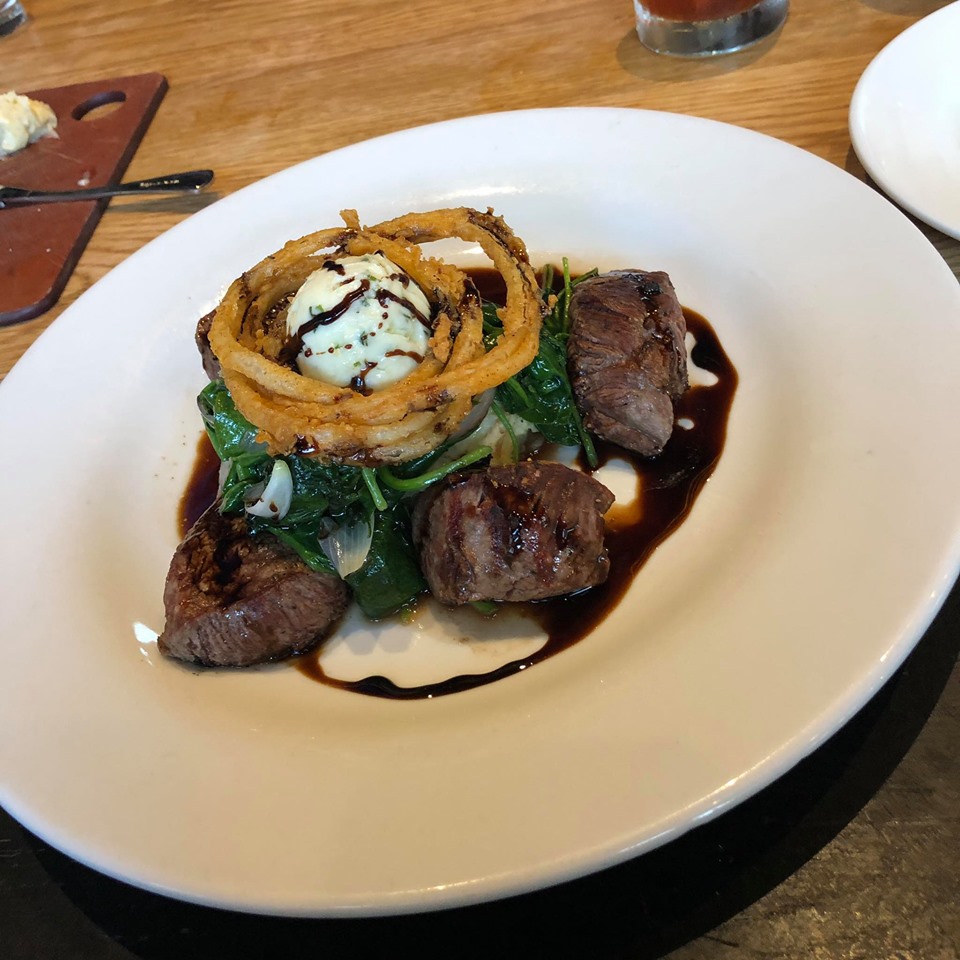 Kendra ordered a shrimp pasta dish that had a garlic Parmesan cream sauce with mushrooms and sautéed onion and sliced asparagus. She loved it!! I'm not big in mushrooms, so I only tried a few small bites, but man were they big on flavor!! The shrimp were cooked perfectly, and they were delicious. The sauce was creamy and rich, and full flavored with bold garlic aroma.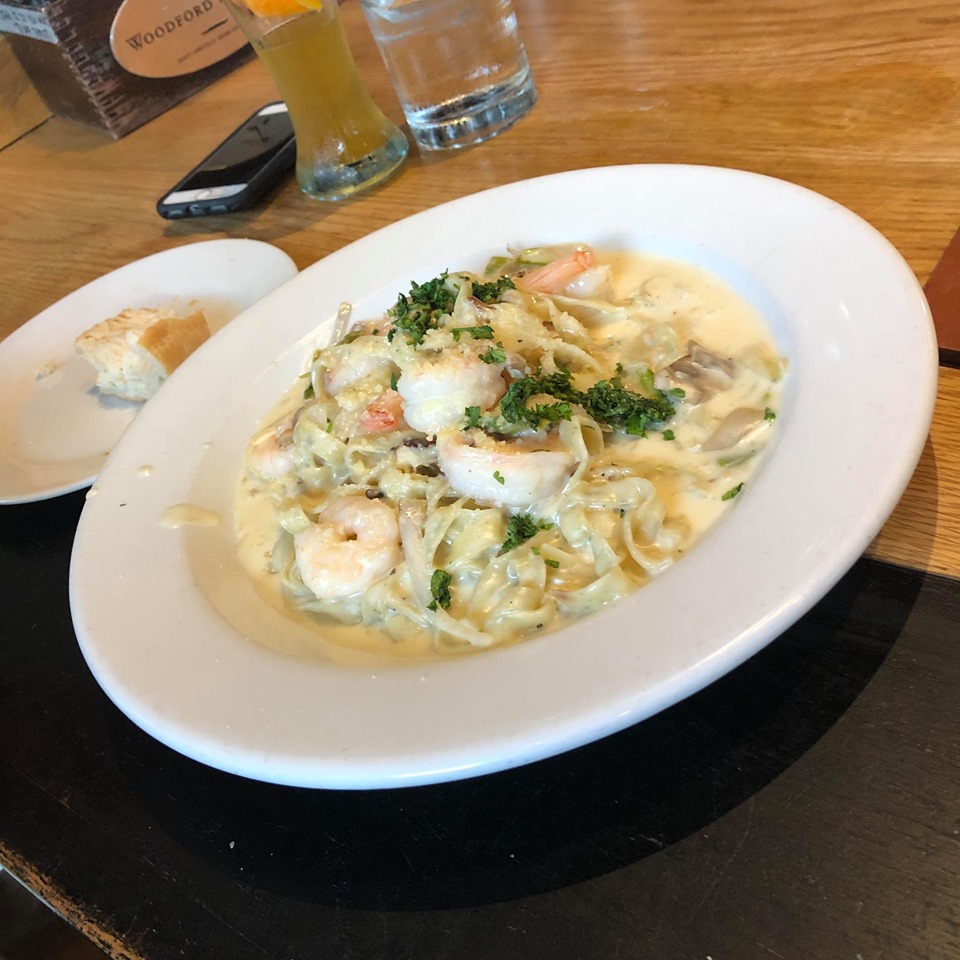 For the aficionados out there...this was the sole letdown of the night. This is the house "Old Fashioned"....mixed in a shaker and poured in a snifter. They muddled in the fruit prior to mixing and shaking. It was full of citrus flavor and smelled great. Had they called it anything other than an Old Fashioned, I might have been more pleased, but when your expectations don't match your experience, it can be quite shocking. The bartender was great, and understood my criticism of the drink, which was welcomed and appreciated, another testament to the establishment.