During World War II, Evansville was a major center of industrial production and, as a result, it helped wipe away the last lingering effects of the Depression.

A huge 45 acre shipyard complex was constructed on the riverfront east of St. Joseph Avenue for the production of oceangoing LSTs (Landing Ship-Tanks). The Evansville Shipyard was the nation's largest inland producer of LSTs. USS LST-325 is a decommissioned ship now home ported in Evansville as a memorial museum to LSTs and the city's war effort.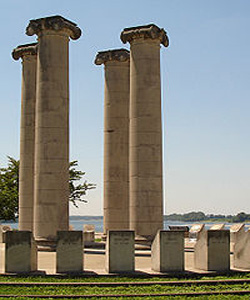 Downtown not only has history but a lot of beauty on the river front with old Victorian architecture and a beautiful river walk area as well.
Thank you to
Wikipedia
for history information